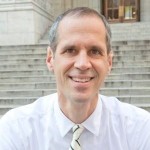 Founder
Alex Blumberg
Alex is a former producer at This American Life, and the co-founder, along with Adam Davidson, of the This American Life/NPR co-production Planet Money. He left a long career in public radio to launch a for-profit podcast network focusing on narrative journalism and story-telling. The first show on the network, Startup, was a podcast documenting the launching of the podcast business. (Meta!)
Gimlet Media is the award-winning narrative podcasting company that aims to help listeners better understand the world and each other. Gimlet was founded in 2014 and is based in Brooklyn, New York. Gimlet podcasts are downloaded over twelve million times per month by listeners from nearly 190 countries worldwide.
Gimlet Creative creates highly produced narrative audio in partnership with brands. Our integrated ad campaigns and branded shows are made by some of the best audio producers in the business. Gimlet Creative is part of Gimlet Media, the award-winning network behind hit podcasts like Reply All and StartUp.
Acquired by Spotify!
https://www.billboard.com/articles/business/8497270/behind-spotify-podcast-strategy-market-growth