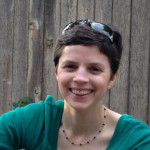 Founder
Christie Lagally
Christie is a mechanical engineer with 15 years of engineering experience and the holder of five patents in manufacturing technology. She spent much of her career in the aerospace industry working on commercial airplanes and spacecraft in testing, design, and manufacturing, and she served as the project manager for a $10M R&D effort for the 777X wing manufacturing unit at Boeing Commercial Airplanes.
Christie served as a Senior Scientist for the Good Food Institute uncovering the technical barriers in the development of plant-based meat and clean (i.e. cultured) meat. She holds Bachelor's degrees in Organizational Psychology and Mechanical Engineering and a Master's of Science in Mechanical Engineering.
Rebellyous is a food manufacturing technology and production company defined solely to catapult meat alternative production toward price parity with factory-farmed animal-based meat. The company makes delicious, juicy plant-based chicken nuggets, patties, and chicken strips. Their ready-to-heat and serve foods cook just like breaded chicken products, so they can be an easy part of busy meal schedules at schools, hospitals, corporate cafeterias, and restaurants.
Founder intro: https://vimeo.com/387485327/13ba8440ec